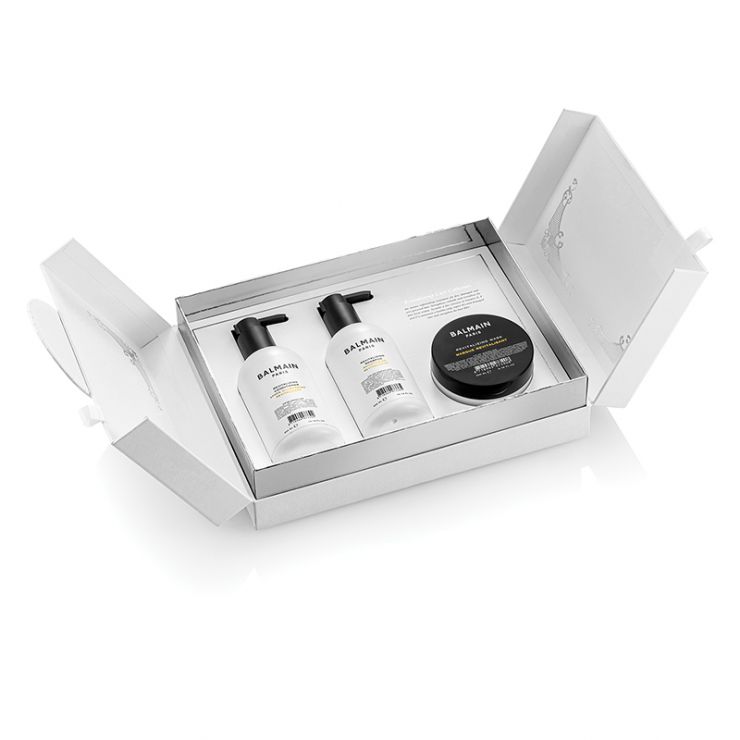 Revitalizing Care Set FW23
In short
The Balmain Hair Revitalizing Care Set is now available in a Renaissance-inspired gift box. The Revitalizing Care Set is a super nourishing treatment to take care of natural or coloured hair. The revitalizing formula restores the hair's vitality without adding weight to the hair. Enriched with the signature Balmain fragrance, this set gives a spa like experience and deeply nourished hair.
Care Set with 3 Revitalizing products

Suitable for all hair-types
Description
The Revitalizing Care Set contains three products from the Revitalizing Care Line that provide an intensely nourishing treatment and care of the hair. It includes the Revitalizing Shampoo, Conditioner and Mask.
The revitalizing formula strengthens and restores hair vitality from within without weighing down the hair. The formula is paraben free and suitable for dry, damaged and over-treated hair. Enriched with the signature Balmain fragrance, this Revitalizing Care set provides the ultimate spa experience and deeply nourished, shiny locks.
How to use
First start gently cleansing the hair with the Revitalizing Shampoo to remove product build-up and excess oils. Use the Mask directly after your wash to help the conditioning ingredients to penetrate. Wash the mask off after 3-4 minutes. Finally use the nourishing Conditioner to seal the cuticles and lock in the moisture and nourishment of the Mask.
Backstage Secret
Use the Styling Comb to distribute the Revitalizing Mask evenly over the hair.