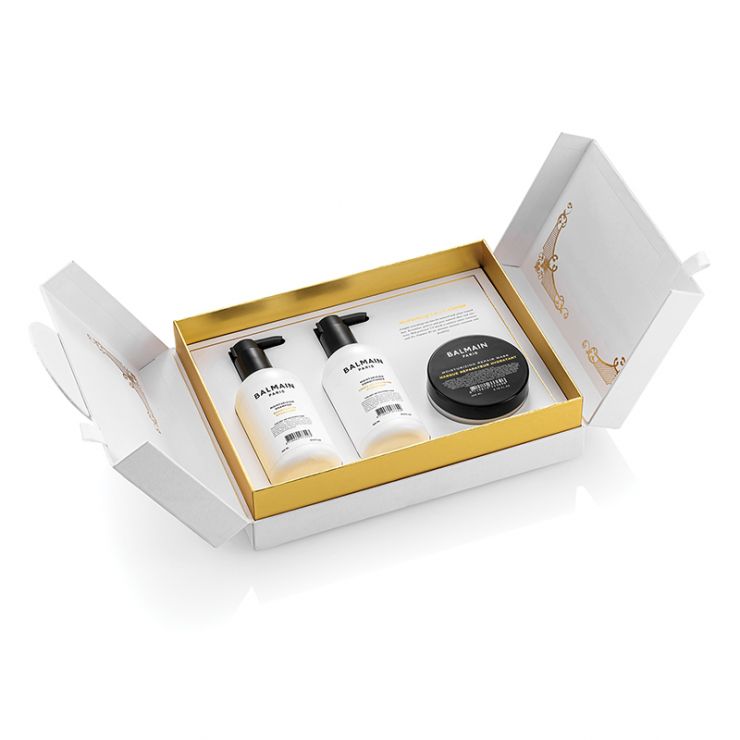 Moisturizing Care Set FW23
In short
The Balmain Hair Moisturizing Care Set is now available in a Renaissance-inspired gift box. This highly nourishing collection, suitable for natural or coloured hair, is enriched with pure organic Argan oil, which revitalizes, protects, and provides natural shine and elasticity. This care set gives optimal hydration and the perfect base for any look, while maintaining manageable, soft, shiny, healthy-looking hair.

Care Set with 3 moisturizing products

Suitable for all hairtypes
Description
The Moisturizing Care Set is an intensely nourishing set that provides hydration and revitalization for pure and healthy hair. It consists of the Moisturizing Shampoo, Conditioner, and Mask. These products are enriched with Silk Protein and Argan Oil, which stimulate the moisture balance and ensure optimal moisture retention in the hair cells. They also protect damaged, dry, and weak hair from external influences. The Care Line is further enriched with the signature Balmain Hair fragrance.
How to use
Clean the hair with the Moisturizing Shampoo, massage gently and rinse the hair. Use the mask to nourish and protect the hair extra. Leave the mask on for a few minutes and then rinse thoroughly. Apply the Moisturizing Conditioner to wet, clean hair and rinse after three minutes.