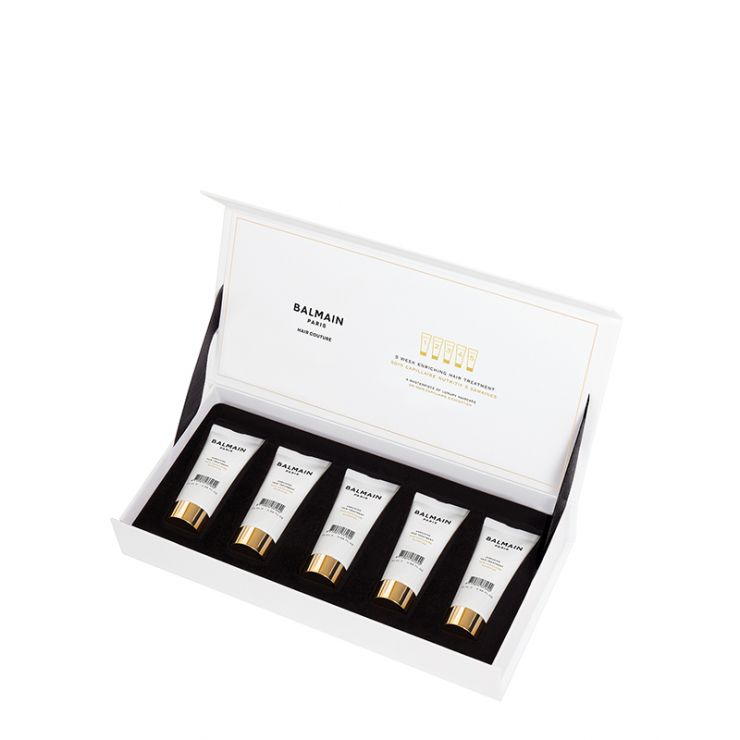 5 Week Enriching Hair Treatment
In short
This soft, lightweight, versatile lotion helps to revitalize and restore hair to its most youthful, radiant appearance. Seals hair cuticles, gives body and elasticity while reconstructing the hair fiber. The Balmain 5 Week Enriching Hair Treatment is designed as complete service. All five tubes are designed for a single use application.
Silk Protein for optimal hydration

Regeneration and revitalization within 5 weeks

Reconstructs the hair fiber
Description
The haircare treatment for regeneration and revitalization within five weeks. The two active ingredients in the Balmain formula: Silk Protein and Succinic Acid seal the hair cuticles, give body and elasticity while reconstructing the hair fiber for healthy hair with a luminous shine.
Silk Protein is an active ingredient that ensures optimal hydration within the hair. Scientifically Silk Protein and the hair's natural proteins are almost identical. Silk Protein contains 17 of the 19 amino acids of natural hair. The ingredient reconstructs damaged protein chains within the hair in the most natural way. Resulting in soft, strengthened and revitalized hair.
To reinforce the power of Silk, the formula is enriched with Succinic Acid. Succinic Acid is a natural ingredient derived from Amber stones that penetrates deeply into the hair. It helps to deliver the Silk Protein and creates a protective layer around each individual protein chain.The combination of these two effective and active ingredients creates a long lasting reconstruction of the hair.
How to use
Each tube is a measured single application of the treatment. Use one application in place of the usual rinse-out conditioner once a week for 5 weeks. Apply generously after shampooing onto the hair from root to end. Leave in for 10-15 minutes and rinse.
Backstage Secret
Use a Silk Pillow case when sleeping to protect the hair.
Contains
5x 5 Week Enriching Hair Treatment 20ml